Accolades
This gallery is off of the main street, and we were so glad to have stumbled upon it. It has become our favorite gallery, and we stop there every time we are in Cannon Beach. It is one of the many highlights of our many trips there. The art changes frequently, they have many paintings from our (curr… Read more
Northwest By Northwest Gallery is Original Art by Regional Masters
NW By NW GALLERY features Fine Art presented in a friendly and unpretentious environment. Three decades of collecting and curating works by the finest Northwest Artists have brought us regional and national collectors and clients. An appreciation of technique and craft has defined the gallery since 1987, celebrating the beauty and spirit of the Northwest.
We're here to help you build your collection one work at a time—or to assist in selecting a work for that special occasion.
Northwest By Northwest Gallery is a Destination Gallery on the Pacific Coast in the scenic town of Cannon Beach, Oregon, named by National Geographic as "One of the 100 most beautiful places on Earth." Located downtown, across the street from the City Park & Info Center on Spruce, we are open every day at 11 a.m.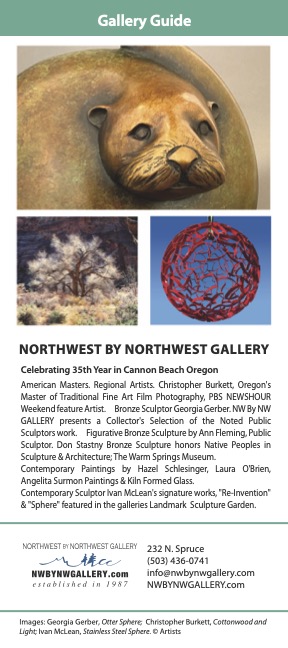 Northwest by Northwest Gallery & featured Oregon Artist Christopher Burkett wish to thank you for many years of patronage, and for sharing our vision and philosophy of the real cultural value of original art.
We are very pleased to offer you renowned sculptor Georgia Gerber. Georgia's work in bronze can be found in public and private collections, from Blacksburg, Virginia to Tokyo, Japan. West Coast installations range from Everett, Washington, to Cupertino, California.
Northwest by Northwest Gallery is recommended by:
Travel Oregon, Frommers, Fodors, Sunset Magazine & Oregon Public Television's Oregon Art Beat.