Earth & Ocean Arts Festival
NW By NW GALLERY artists create paintings & sculpture celebrating one of the most beautiful places on Earth according to National Geographic.
In celebration of Haystack Rock National Wildlife Refuge and Marine Garden Island Sanctuary, a percentage of our sales from the Earth & Ocean Arts Festival will benefit "The Friends of Haystack Rock" who protect our iconic mascot: The Tufted Puffin.
NW By NW GALLERY visitors will see new works by Ann Fleming (The Mending) pictured.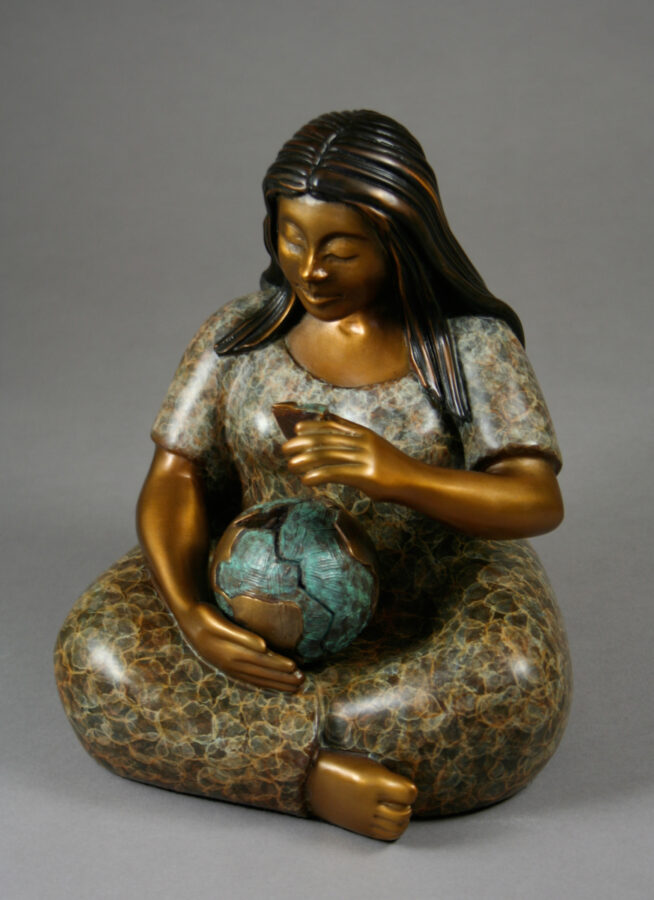 Georgia Gerber, whose Tufted Puffins are on permanent display as part of the Public Sculpture in Cannon Beach, has a new collection including Kingfisher, Otter Sphere, Hummingbird, & Owl on Stone.
Christopher Burkett (PBS NEWSHOUR featured Fine Art Color Landscape Photographer), Angelita
Surmon, Don Stastny, Hazel Schlesinger, & Ivan McLean will be showing new works. We are also introducing Laura O'Brien paintings of Haystack Rock & "Cannon Beach Rocks Furniture".
NW BY NW GALLERY WEEKEND WINE EVENT!!!
A wine event will be taking place in the Sculpture Garden with wine facilitator, educator, & gallery friend Patrick McElligott, who will be speaking about his award-winning Sineann Wines. Meet Patrick outdoors in the garden from 2pm to 5pm on Friday or Saturday from 12pm to 3pm. Gallery artists will also be visiting throughout the weekend, making the event a gallery favorite with clients & wine nerds alike. Masks will be required throughout the event for the safety of guests.
Weekend Book Raffle at NW by NW Gallery
Drop your business card in the box for a chance to win:
Robert Frost first edition book Seasons with color photography by Master of Fine Art Film Photography, Oregon's Christopher Burkett (Value $50), or award-winning Intimations of Paradise, a color photography coffee table book by Christopher Burkett with poems by conservationist Wendell Berry. This is a signed first edition (Value $100).
Raffle closes Saturday at 4pm. Winners will be notified on Sunday.
***This event requires visitors to wear masks over the nose & mouth at all times both indoors & out. Indoor visitors will be limited to a small number. Artwork will also be featured in our Landmark Sculpture Garden on Spruce Street featuring Ivan McLean's Contemporary Sculptures.***
"Cannon Beach is one of the top 30 Coastal Arts Towns internationally." -US News & World Report.
Northwest By Northwest Gallery
232 N Spruce
Cannon Beach
503 436 0741
established 1987